AMBOHR
Honeycomb for Ozone catalyst AOD-FC(Modified porous activated carbon)
Regular price
$477.50
Sale price
$532.60
Unit price
per
                              Catalyst that effectively resolves ozone
Description
Features Applications
Under the same working conditions, the decomposition rate of ozone with the same quality catalyst is higher and more stable than that of the same kind of products
Ozone removal process without the need to provide any additional chemicals
High efficient catalytic decomposition of ozone at room temperature to produce oxygen to meet the requirements of safety and economy
The material is simple and convenient to use, has long service life, and the purification efficiency of other catalysts is more than 1.2-2 times under the same quality
Use Less, perform better, and be more economical with the same volume
For the first time ozone elimination and efficient utilization of resources
Composite multi-catalyst system, high ozone utilization rate, high mineralization rate
The invention solves the problem of ozone secondary pollution caused by photolysis and plasma technology, improves the oxidation degree and purification efficiency, and upgrades the traditional technology
M
ethod of use
:
Ozone and exhaust gas into the catalyst surface at the same time, gas pipeline not short flow air leakage, all the gas through the catalytic network, the number of 2-4 layers.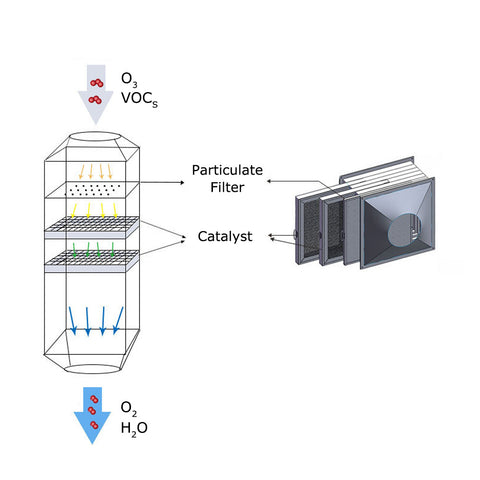 Applications
Industrial VOCs, Odors, Lampblack and other pollutants purification process of ozone by-products of equipment and engineering; UV photolysis, plasma, high-voltage static electricity, ozone generator and other equipment
Plastic recycling, spraying, printing, electronic manufacturing, paint and other industries waste gas purification and garbage in the loading station and other odorous places
The efficient elimination and utilization of ozone in many fields such as the place where the VOCs Waste Gas with low concentration is produced
The ozonation catalyst is designed and developed for the purification of high concentration ozone pollution (especially O3≥500 ppm) , and is also safe and effective for the purification of low concentration ozone (O3 < 500 ppm) , fast catalytic decomposition of ozone to non-toxic oxygen.
ozone generator generated residual ozone (high, medium and low concentrations of ozone) in all occasions
Treatment of ozone tail gas from L Ozonation of wastewater
high efficient elimination and utilization of ozone in many fields, such as sterilization and disinfection of medical instruments, ozone pollution purification after odor elimination in public places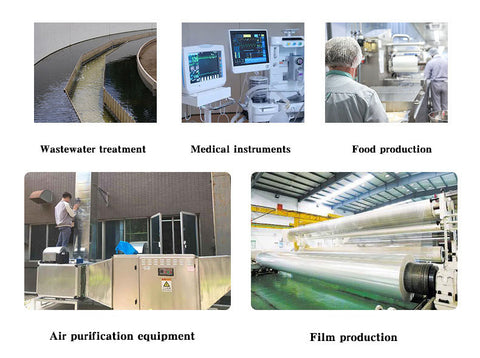 Volume calculation:
         catalyst volume=air volume/air speed
         weight= catalyst volume* bulk density
Practical case:
| | | | | |
| --- | --- | --- | --- | --- |
| blast capacity | Ozone concentration | Air temperature | humidity | Volume airspeeed selection |
| 5000m3/h | 20ppm | 20-30℃ | 30-60%RH | 20000h-1 |
catalyst volume=5000m3/h/20000h-1=0.25m3
catalyst dosage=0.25m3*500kg/m3=125kg
Specification & Packaging
Specifications:
| | |
| --- | --- |
| Type and name of catalyst | OD-FC (ozone decomposition catalyst) |
| Catalytic action | Catalytic decomposition of ozone to oxygen at room temperature with zero energy consumption |
| Catalyst appearance | Honeycomb 100 * 100 * 100 mm or 100 * 100 * 50 mm, square hole, aperture 1.5-2 mm (other specifications to be customized) |
| Catalyst carrier | Modified porous activated carbon |
| Packing density | 400-600kg/m3 |
| Product packaging | Cartons, double-ply, $20/Carton or $40/Carton |
| specific surface area | ≥600m2/g |
| Ozone purification efficiency | ≥90-99% (related to actual working condition) |
| Quality Assurance | Service life not less than 8760h |
| Active component | Supported manganese-based composite metal oxide |
| Recommend airspeed | 10000-80000h-1 |
| Suggested reaction flow rate | ≤3m/s |
| Air Resistance for catalyst use | ≤800pa -LRB-relative to actual working condition) |
| Suggested gas residence time | 0.08-0.36s |
| Installation requirements and points for attention | Gas pipeline not short flow leakage, all the gas through the catalytic network, the number of 2-4 layers |
Product principle
Under the action of power system, ozone is decomposed into non-toxic oxygen after entering the nano-active sites on the inner and outer surfaces of ozone decomposed materials with high specific surface area at room temperature through ozone catalytic decomposition material bed or decomposition network, purification process zero energy consumption (excluding the power consumption of fans),zero chemicals.
---
Share this Product
---