The Development of Ozone Technology in China in the 1980s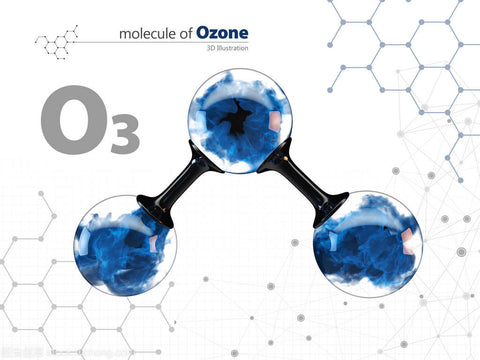 Research on Ozone Generation Technology in China in the 1980s
Around 1980, with the technical support of the East China Institute of Chemical Technology, Li Aicheng in Taixing Environmental Protection Plant embarked on the production of ozone generators and high-speed stirring ozone absorbers. After accepting relevant technology transfer from Tsinghua University, he devoted himself to the production of two types of ozone generators at the same time. In the early 1980s, a 1 kg/h Industrial frequency high voltage ozonizer was produced.
In the following two decades, it was the two enterprises - Shanghai Environmental Protection Equipment Plant and Taixing Environmental Protection Equipment Plant - that provided a larger part of domestic large-volume ozone generators required for drinking water treatment and production wastewater treatment from chemical and perfumery plants, thus making a greater contribution to the growth of China's ozone industry.  
In September 1980, the ozone generation unit of ceramic dielectric material was developed in the Benxi Institute of Light Chemical Industry.
Some units including Hebei Handan 718 Research Institute, Ningxia University, and Tsinghua University developed "open-type" ozone generators that were used in the fields of mold prevention and freshness preservation of perishable foods like eggs, fruits, and vegetables and sterilization and purification of food processing.  
In 1981, holding the director of Tongli Ozone Research Center of Tsinghua University, Professor Li Hanzhong cooperated with Huang Manqing, Huang Yuansheng, and other colleagues to develop small high-frequency ozone generators on the basis of original power frequency ozone generator technology, in which 25kg per hour air source high-frequency ozone generators won the national science and technology award.  
Since 1981, Li Hanzhong, Huang Manqing, Wang Shuling, and others in the original equipment and instrument factory of Tsinghua University successively cooperate with the Department of Environment and Department of Automation to form a research group and developed series of products for plate high-frequency inverters ozone generators which filled the gap in high and medium frequency ozone generators in china. Among these products, CN87107561X "High-Frequency Ozone Power Supply of Pulse Type" was regarded as the earliest domestic invention patent for ozone power supply, and CN85200020 "Double-sided Discharge Lamination Ozone Discharge Chamber" was the first patent for the ozone discharge chamber in China. Moreover, 3g/h~200g/h series products of high and medium frequency ozone generators with plate type and tube type respectively won the second prize of PLA Science and Technology Progress Award and Beijing High-tech Products Award and were applied to the projects including missile propellant wastewater treatment and chemical warfare agent detoxification as well as in the fields including the processing, storage, mold prevention and freshness preservation of food. In general, the series of products promoted the progress and development of ozone technology through technology transfer, product promotion, and other means.  
In 1982 and 1984, 1kg/h and 2kg/h ozone generators developed by Wang Zhansheng, Shen Yingpeng, and Zhang Hansheng of Tsinghua University were appraised as ministerial and provincial products and were used to the wastewater treatment in the fields including Beijing Dongfanghong Oil Plant and Beijing Yanshan Petrochemical Drinking Water Workshop and many hospitals in Northeast China and other places. Among these plants, the Yanshan Petrochemical Water Plant in the mid-1980s, combining 5×1kg/h ozone equipment with ozone-activated carbon process to treat the source water of Miyun Reservoir, operated until 2000 with the largest ozone output of domestic ozone equipment.  
In addition, Ding Nanhu at Shanghai Institute of Naval Medicine cooperated with Shanghai Navigation Instrument Factory to develop plate-type ozone generators, successfully applying them on the disinfection of daily water for naval ships.
Shanghai No. 2 Perfumery Factory carried out research on the double-water internal cooling intermediate frequency ozone generation unit with the support of the Shanghai Ozone Cooperation Group. The medium frequency power supply was developed by Shanghai Changjiang Electric Appliance Factory and used in the perfumery production.
Research on Ozone Application Technology in China in the 1980s
In the early 1980s, Shanghai Environmental Protection Equipment Plant supplied ozone equipment for drinking water treatment to Guangzhou Baiyun Hotel. Moreover, self-designing ozone generators, Nanjing Oil Refinery, and Shanghai Zhoujiadu Waterworks became the earlier plants applying ozone to do drinking water treatment in our nation.
From August 1980 to March 1981, Wang Keqiang, a senior engineer in Wuhan Zhongnan Research and Design Institute, developed ozone treatment technology for hospital wastewater and was in charge of building an ozone treatment station in Wuhan Workers' Hospital.n
Ozone sterilization technology for hospital wastewater was developed by the East China Institute of Chemical Technology in 1980 and conducted demonstration application in Suzhou Tuberculosis Hospital in the same year. From 1982 to 1983, the technology was generally used in dozens of hospitals nationwide including Fujian Yongfa Railway Hospital, Nanchang Infectious Disease Hospital, Second Hospital of Fuzhou Traditional Chinese Medicine, Fuzhou Maternal, and Child Health Hospital, and thirteen hospitals in Shijiazhuang.  
Greater achievements have been made on ozone application by the East China Institute of Chemical Technology and Shanghai Environmental Protection Equipment Plant. For example, ozone was applied for disinfection and sterilization in the operating rooms of Xinhua Hospital and Shanghai Peace Maternal and Child Health Hospital; it was used for air purification in Shanghai Huxi Cinema; Shanghai Nanhuo Wholesale Department, a food company, used ozone on a large scale for mold prevention and freshness preservation of dry fruit; and Yantai Cannery and Changyu Wine Company use ozone to preserve fresh fruits and grapes.   
In early 1980, the East China Institute of Chemical Technology and Shanghai Environmental Protection Equipment Plant jointly designed the ozone/UV catalytic oxidation technology equipment and applied it for wastewater treatment of missile launching cooperated with a certain unit in Tianshui. The relevant research was carried out at the Institute of Tianjin Military Medical College as well.  
In June 1983, taking wastewater generated by the three pesticides - dimethoate, 1605, and dichlorvos as the experimental objects, Qin Sichang, Zhou Fengxian and others in China Naval Medical Research Institute conducted an ozone treatment experiment on organophosphorus pesticide wastewater. It was shown that the removal rates were over 90 percent, achieving the desired effect.   
In 1984, Beijing Tiancunshan Water Plant introduced two 5kg per hour air source ozone systems from Fuji, Japan with water treatment of 170,000 t/d; Changxindian Water Plant also introduced one with water treatment of 100,000 t/d. They were the first batch of domestic enterprises in the water supply industry to introduce large ozone equipment from abroad for advanced drinking water treatment.  
 Since 1986, on the basis of standard high and medium frequency ozone generators, the original equipment and instrument factory of Tsinghua University developed "open-type" series products, applying them to dozens of large or medium egg storage units nationwide for air disinfection and mold prevention and freshness preservation during storage.  
In addition, Zhang Zhiren of the Institute of Commission of Science, Technology, and Industry for National Defence studied the ozone treatment for silicon-bearing wastewater. Qiu Tianchu, a member of the East China Municipal Government, conducted research on ozone treatment for wool mill wastewater. When it came to the application of industrial wastewater treatment, the catalytic ozonation treatment for coal gas washing water was carried out in Shanghai Heavy Machinery Plant; ozone treatment was applied for cyanide-bearing wastewater in the Third Machinery Department of The Nanchang Airport; and research on the treatment of industrial wastewater using ozone-ultraviolet, ozone-catalytic oxidation, ozone-H2O2, ozone/Fenton processes is also underway.
With the increasing ozone application on mineral water treatment since 1980, it was used to sterilize and disinfect in nearly a thousand mineral water factories in succession across China. The application and popularization of ozone in this field have greatly promoted the development of ozone technology and the publicity of ozone knowledge in our nation. Subsequently, the national unprecedented exchange seminars on mineral water ozone treatment were launched in Shanghai and Wuxi respectively.
Organized by Ma Shihao, Shen Yingpeng, and others in Beijing Environmental Protection Institute, the First National Seminar on Ozone Technology was held in Beijing Hot Spring Sanatorium in 1984, and the second seminar was convened in Tsinghua University in 1986, at which it was planned to set up the National Ozone Association affiliated with the National Environmental Engineering Association, but it was not approved by relevant national authorities.
Professor Xu Chunyi in East China Institute of Chemical Technology attended the Eighth International Ozone Conference and served as the chairman of the branch group in 1987. Later on, he published the related technical papers. Domestic participants at that time also included professor Wang Baozhen(remained to be further verified).
The Development of Ozone Technology in China in the 1990s
In the 1990s, ozone was used in multiple areas, including the promotion and application of ozone disinfection technology for mineral water and purified water, ozone's application for air sterilization in the pharmaceutical industry, and the emergence of mini-type domestic ozone generators, which played a crucial part in promoting the future development of ozone industry in China.  
 Ozone was applied in diverse fields like chemical industry, perfume, water treatment, food, and medicine with the deepening understanding for it, thus embracing the broad market prospect and promoting the establishment of ozone equipment manufacturing enterprises all over the country. The organization was also founded in the ozone industry as the number of relevant companies expands.
In April 1994, the Ministry of Construction issued two ozone-related standards named CJ/T 3028.1-1994 "Ozone Generators" and CJ/T 3028.2-1994 "Measurement of Ozone Concentration, Ozone Output and Power Consumption of Ozone Generators", and implemented them on December 1, 1994, playing the major role in the regulation of ozone production. It was until 2010 that the two standards were replaced by the new ones.     
From 1994 to 1996, Wuhan University took the lead in conducting some relatively effective research work on electrolytic ozone generation technology and declare the success of the invention patent "electrolytic ozone generation devices (97122126.X)", which represented the major milestone in the development of electrolytic ozone generation technology.   
The water plant of Daqing Petrochemical Company used the Nenjiang water source to produce drinking water. However, the source of water quality turned high turbidity during spring and summer each year. In 1995, 166 kinds of organics were detected after water quality tests, of which 4 were carcinogenic substances. In response to this situation, the company adopted the advanced O3-GAC treatment process and introduced 3 3kg/h ozone generators from the French TRALIGAZ Company with the water treatment capacity of 1500m3/h. After the treatment, the water quality was significantly improved with the COD content of less than 2.5mg/L and the turbidity of fewer than 1 NTU of source water compared with the COD content of 3-6mg/L and the turbidity of 3-5mg/L.
In 1996, Li Hanzhong and Huang Manqing of Tongli Ozone Research Center of Tsinghua University visited the Moscow Power Engineering Institute of Russia and VEI to learn about enamel discharge technology. After returning, professor Li Hanzhong and professor Zhuo Weihan(former dean of the Department of Electrical Engineering of Tsinghua University and an expert on high voltage) led graduate students to develop the first enamel tube with ozone synthesis in China.
In 1997, Shenzhen Tangfeng Electric Appliance Co., Ltd. successfully developed the electric high-concentration ozone generator. Subsequently, Mr. Pan Dongliang, an entrepreneur from Zhejiang Province, was granted the paid use of the invention patent "electrolytic ozone generation devices (97122126.X)" from Wuhan University, and established Wuhan Kangqiao Electric Appliance Co., Ltd. to develop related electronic ozone products, thus making positive contributions on the development and application of this kind of products.
In 1997, with the participation of Sun Guangming, Li Hanzhong, Li Baohua, Gong Wanru, and others, the Tianjin Fisheries Research Institute and Tongli Ozone Research Center of Tsinghua University cooperated in research on the ozone application for aquaculture water treatment.
In August 1998, initiated by Professor Li Hanzhong, director of Tongli Ozone Research Center of Tsinghua University, a seminar on ozone technology was held in Jinan, bringing together enterprises producing ozone generators across the country. In the following year, he organized and established the National Service Network on Ozone Technology and held its first annual conference and the ozone Technology Seminar in Chengdu in October. Since then, Organized by National Service Network on Ozone Technology, annual conferences had been held in the ozone industry for mutual learning and exchange. Sparing no effort in the entire process, processor Li made a tremendous contribution to the growth of the ozone industry.   
 More details, click our website: http://okayozone.com
Translated by Qin Zeyu, Tianjin University